Recently, ZATCA e-invoice KSA has updated new regulations surrounding electronic invoices. Bridge LCS' logistics management software has updated its e-invoice to meet ZATCA Saudi Arabia's regulations.
ZATCA had issued a mandate that all taxpayers must start using electronic means of invoicing from December 4th, 2021. The reason for the mandate is that ZATCA wants to reduce the paperwork involved in the process of handling invoices and make it easier for taxpayers to conform to the law.
Bridge LCS has now incorporated the ZATCA approved e-Invoicing Saudi Arabia phase 1 into the system. The latest version of our e-invoice perfectly complies with the direction of ZATCA. Read more,
Read related article:
Mandatory E-invoicing in Saudi Arabia from Dec 2021
ZATCA qualified E-invoicing KSA logistics software
New ZATCA e-invoice KSA & How Bridge LCS complies with the direction of ZATCA?
If you are wondering about the guidelines ZATCA issued and how Bridge LCS has developed it, have a glance below.
QR Code to be associated in each Invoice: Bridge LCS has included a QR Code in each and every Invoice which can be scanned using the "suitable application".
Scanning the QR Code provides you the following details which are essential to be known,
The Seller Name.
Seller VAT ID.
Invoice Time and Date.
Invoice Total with VAT.
VAT Total.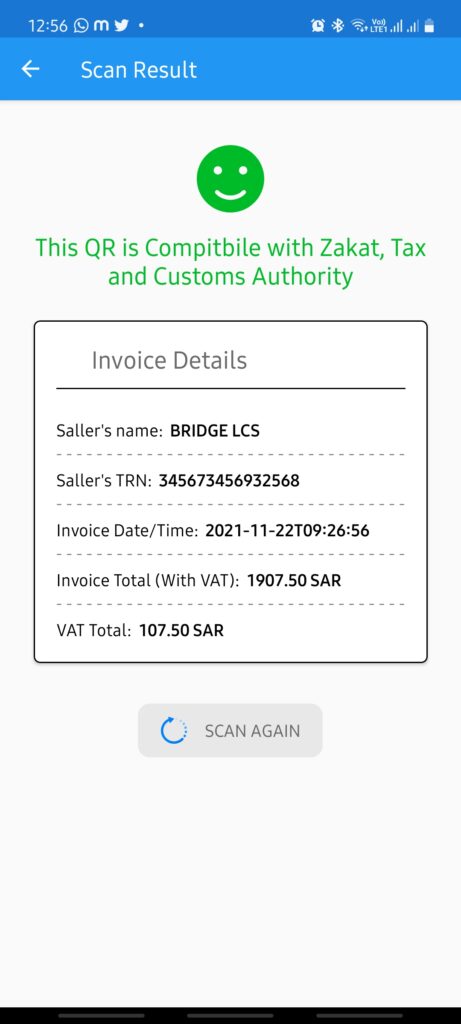 Note: It is advised to use the recommended QR Code Reader("E-Invoice QR Code Reader KSA") in order to get the invoice in a readable format.
No edit or No modification allowed: Once the invoice is approved the data present in the e-invoice cannot be modified. Earlier the system had disapproved option which now has been disabled in order to avoid frequent modification to the invoices.
In case of emergency or unavoidable situations, you can reverse the following invoices by issuing a credit and making a new invoice(only in exceptional cases).
Final invoice
General customer invoice
Terminal invoice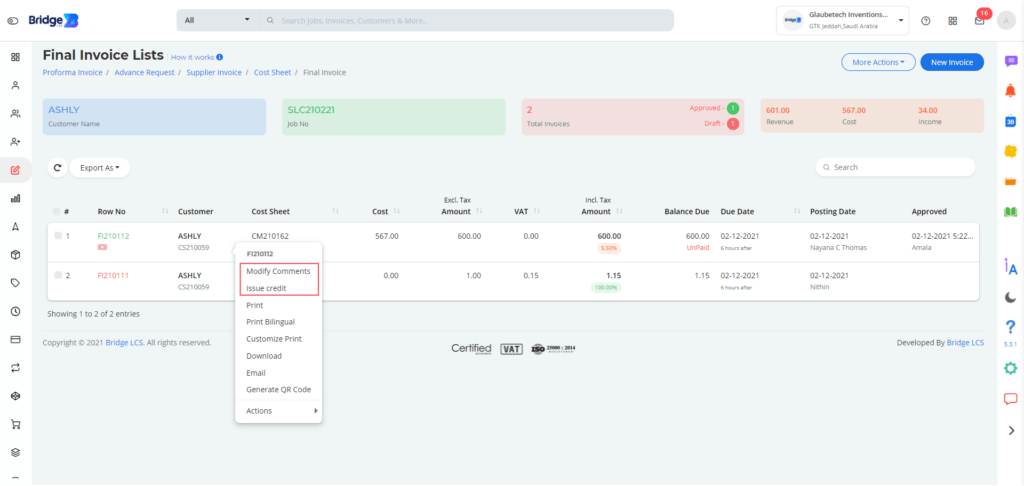 And also you can reverse the following invoices by issuing a debit note and making a new invoice.
Supplier invoice
General invoice
Terminal cost
Maintenence invoice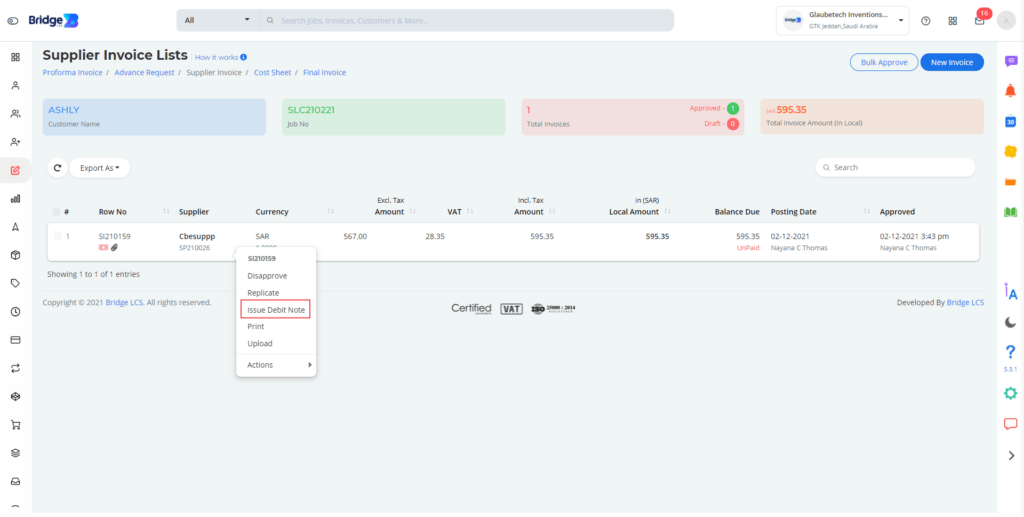 Finally, Bridge LCS has also included a few bonuses features that would help you in certain ways.
You can prevent or identify printing the unapproved invoices through the "Draft" Watermark and the absence of the e-invoice number. This arrests the process of sending unapproved or incomplete e-invoice.
Thanks for reading!
Saudi Arabia has recently updated the ZATCA e-invoice regulation. These regulations have been implemented in order to control the invoices that are not certified and protected. Bridge LCS logistics management system updated e-invoice to meet all the new regulations and is safe to use.
We look forward to hearing your feedback.

Follow us on Twitter, LinkedIn, Instagram, Facebook
Bridge LCS video tutorial