The Kingdom of Saudi Arabia (KSA) has announced e-invoicing for resident companies, which will be published on Friday, December 4th, 2020. It will become mandatory for taxpayers by December 4th, 2021. The main objectives of the e-invoicing mandate are to provide more transparency and to enhance consumer protection. And also benefit of implementing e-invoicing will be the readability of the invoice formats.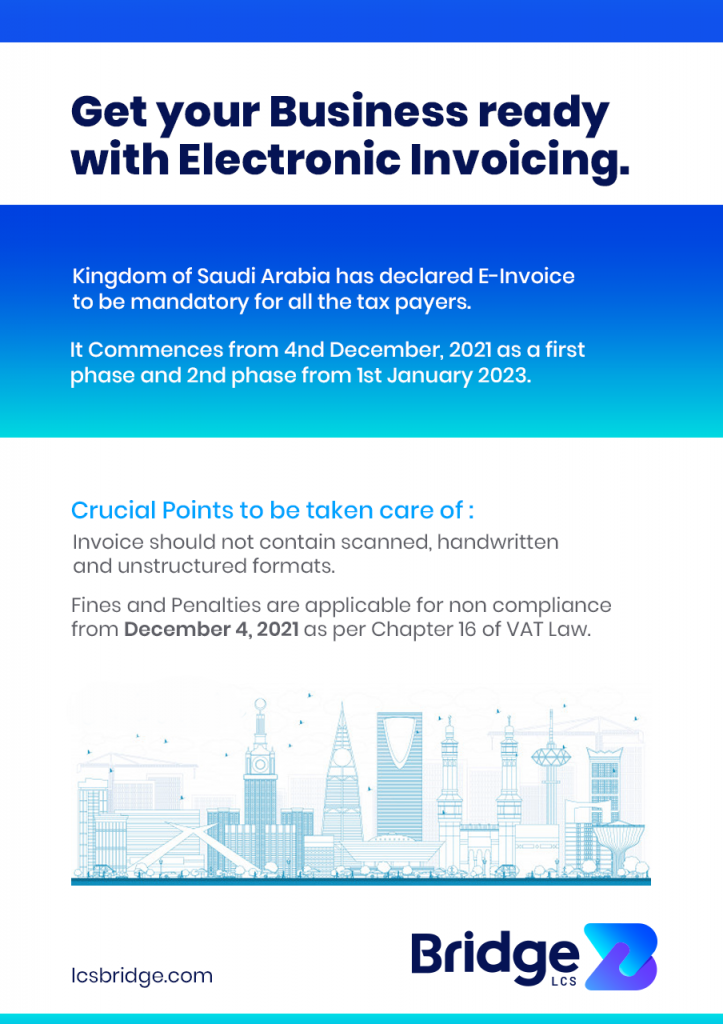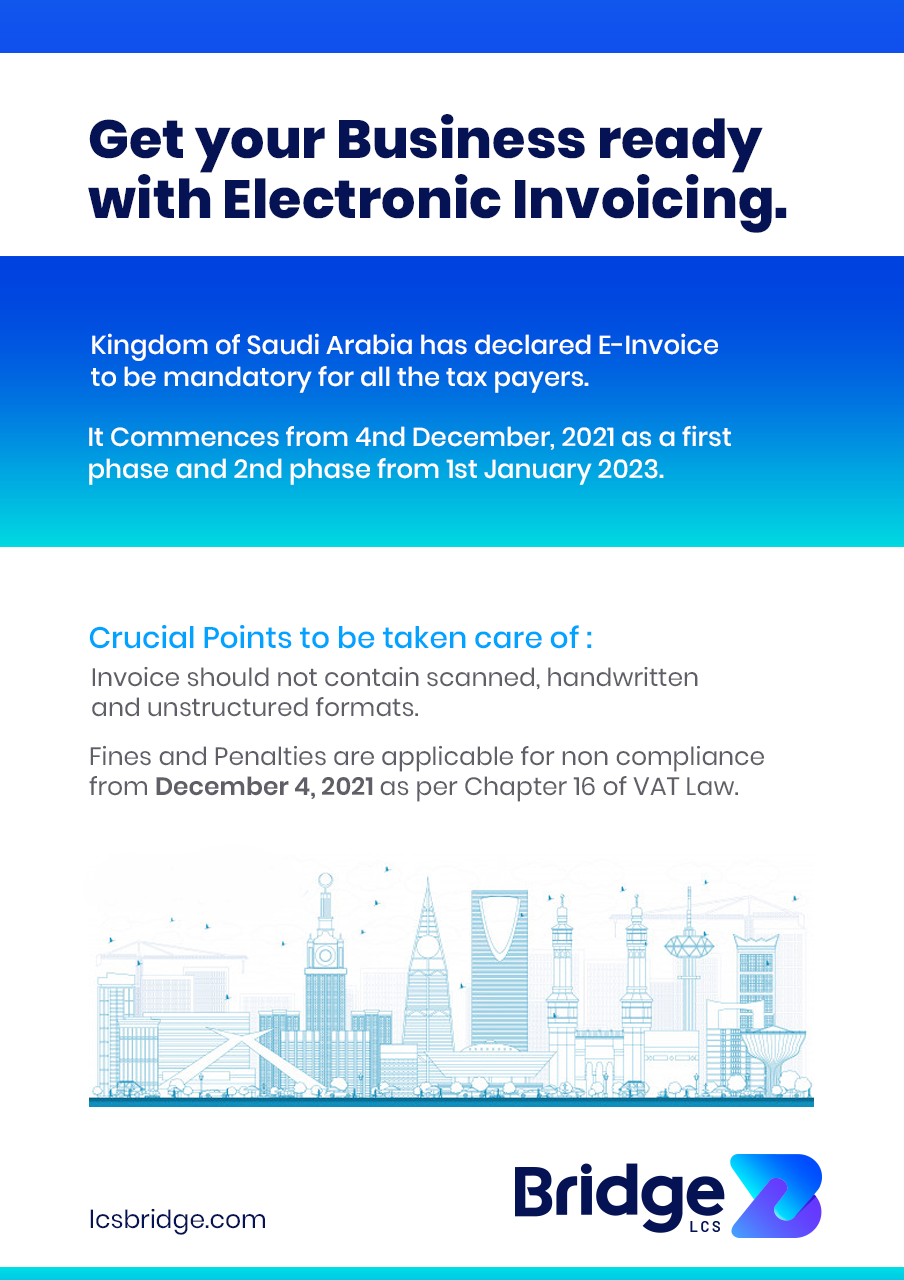 What is an e-invoice?
The electronic invoice is also known as e-invoicing. An e-invoice is a tax invoice that generates and stores the electronic invoice through an e-invoicing system. It helps to solve the issues in the paper invoice. Hand-written or photocopied invoices are not considered e-invoices.
Process of E-Invoice model are as follows:
The seller generated and stored the electronic invoice in a structured electronic format.
It should contain all the mandatory fields in the tax invoice.
Buyer receives a copy of the invoice.
According to the KSA VAT regulations, will be applicable on e-invoices, as well as the violations and penalties prescribed in the VAT law.
Conclusion
Setting up any new system is challenging. However, It will enable the real-time tracking of invoices, and the claiming of the only genuine input tax credit.
Bridge LCS is proud to announce that we have been eligible to join the KSA authority's list of electronic billing system providers.
The new e-invoicing improves the quality of our report & invoice that in turn increases the satisfaction of our customers at large!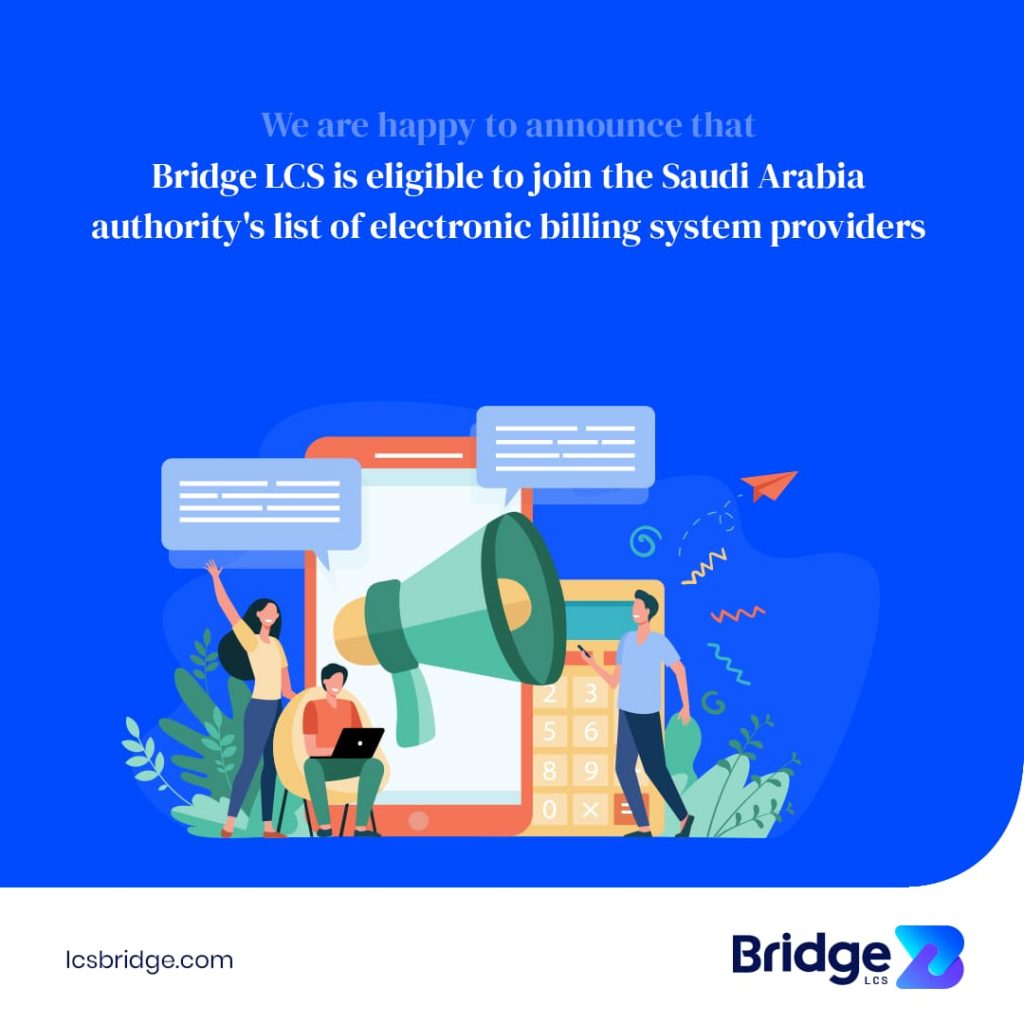 This is the right time to sign up with our logistics software and digitalize your logistics business. For more information, click here to contact us today.

For more information about E-invoicing, you may check the Saudi Arabia Government GAZT website.
GAZT has also published an e-invoicing guide and FAQs.
Thank you for reading and following the Bridge LCS blog.
Follow us on Website, Twitter, LinkedIn, Instagram, Facebook
Bridge LCS video tutorial