We have made the latest update for our Bridge LCS logistics software version 4.2. Help to manage and control the logistics industries. Major updates are included in this version like invoices, reports, and many more. In other words, This is the best chance to join and benefit from the new version.
As always, these following updates focused on stability and security improvements and are designed to be safe.
What's New
Version 4.2 enhances the logistics company's performance. If you still run this old version, either upgrade to Bridge LCS V4.2 or contact our experts.
The most recommended update is a disapproving option in the final invoice and employee ledger listing. New version updates are listed below.
Logistics Software New Version Updates
Disapprove

Disapprove option added in Final Invoice [Right click -> disapprove].
Note: User can disapprove of invoice if invoice payment is not received or income booked.
Important Note: In addition, the Default disapproval option will come to only super admin. For users need to give user rights in Settings -> Users -> User Rights
While clicking on the attachment icon in Supplier Invoice, you can view the list of uploaded files.
While clicking on Invoice No of Supplier Invoice in Supplier Statement, you can view its uploaded file list.
Job transportation details added in the delivery note.
User details added in the job file upload list.
Status Report
Status Report print is fully customizable now. While printing you can customize the columns by clicking on the hiding columns button.
Containers column added in Status report print page.
Job Reports
Cost Sheet pending option added in invoice status drop-down of Job Report, which will list the Supplier invoice created and not converted as cost sheet.
Input Tax
While double-clicking on Invoice no supplier invoice in Input Tax Report, you can view its uploaded file list.
Tax Summary
Export button added in Tax Summary.
Transaction split up enabled for each description in Tax Summary.
Shipper column added in the job details page of tracking section.
Shipper column added in Quotation.
File upload option added in Monthly Salary [Right click -> Upload].
Taxes
Taxes are updated as per Saudi Arabia Tax Standard.
Inward Summary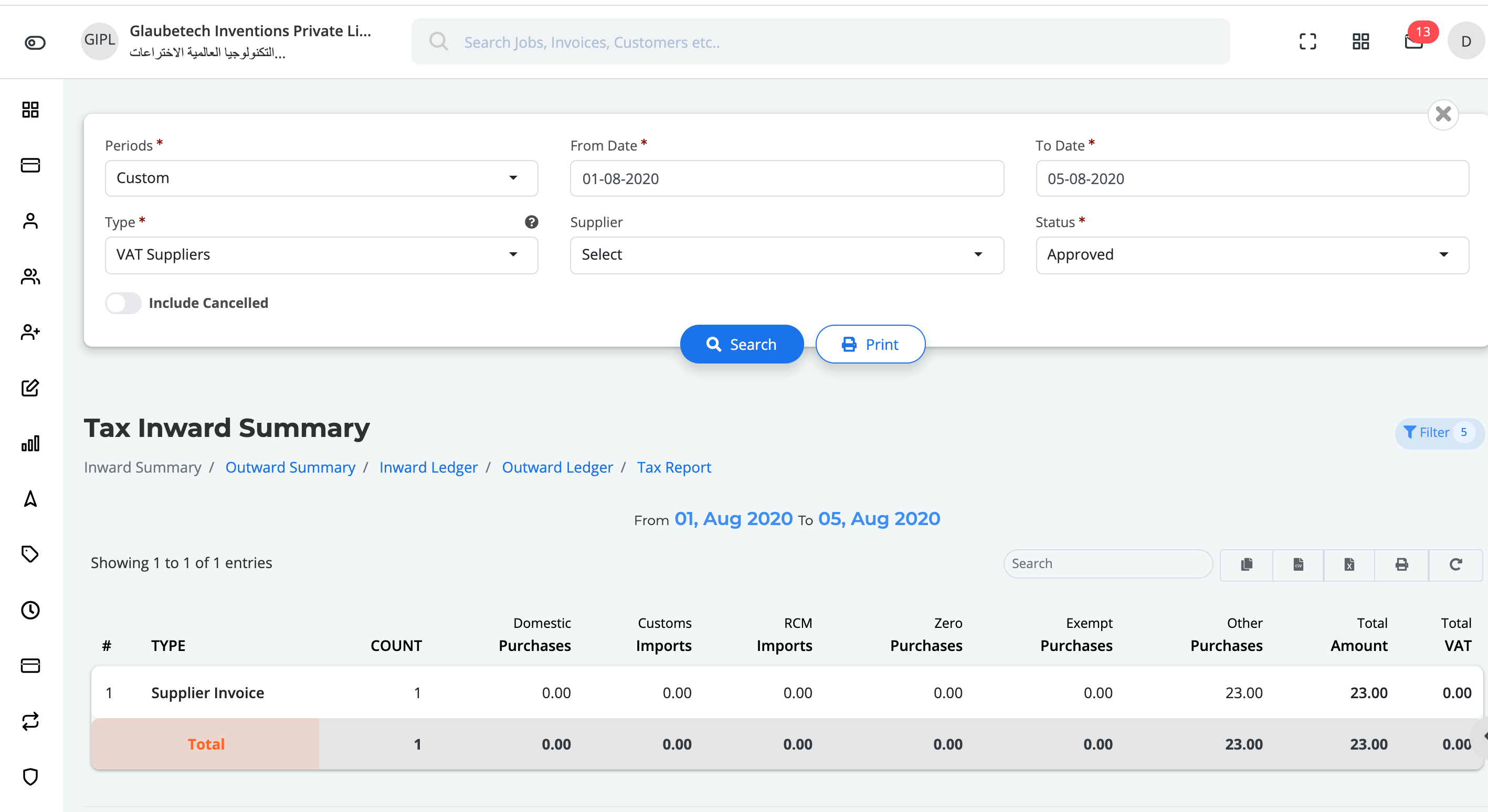 List of all the vendor/supplier invoices posted with tax classification.
Outward Summary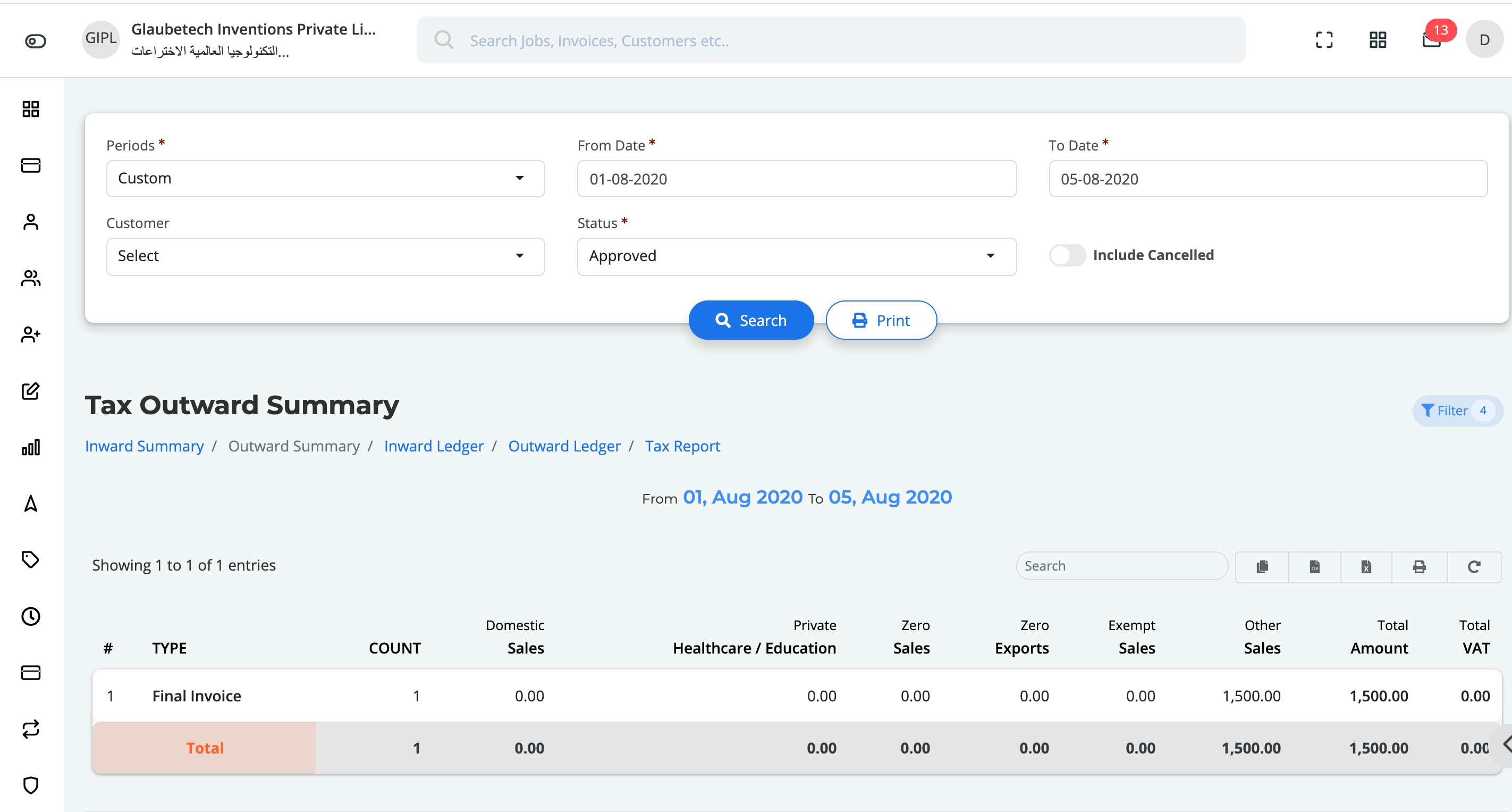 List of all the Customers' invoices posted with tax classification.
Inward Ledger
List of all the transactions of Vendor/Supplier invoices posted to Input Tax Account.
Outward Ledger
List of all the transactions of Customer invoices posted to Output Tax Account.

Ledger
Let the user know the total list of the employees, with the payable salaries, loans, and the balance as of now.
Statement
A consolidated report of employee salaries and loans is posted in the system for a particular period.
Update Terms and Policies.
Therefore, As part of our continued commitment to improve our services, we are updating our Terms of Service and Policies on Bridge LCS.
No Modification or customization is allowed to discuss through the WhatsApp or any other support community.
$25 per hour is applicable for any customization request in Bridge LCS.
The Request will be evaluated as below.

Possibility to Implement.
The time frame and the department to develop and execute.
Preparation of Technical documentation with a pricing estimate

The Technical documentation must be signed by the Company head.
No further changes from the documented customization will be allowed or it will be considered as a separate requirement of customization.
The Development will start with a 50% advance payment to the invoice.
Customization request has to be made through our official mail sales@lcsbridge.com.
In conclusion, Fixed some known bugs and performance improved. And also increased the speed. We appreciate your feedback, and very great to hear that your favorite features are in the stable release. For more information mail us at info@lcsbridge.com.
We hope you enjoy Bridge LCS logistics management software update V4.2!

Check Bridge LCS software's latest version 5.2!
Register now for a free 14 days trial – FREE TRIAL VERSION
Download logistics software mobile app from HERE!
Follow us on Twitter, LinkedIn, Instagram, Facebook
Bridge LCS video tutorial
Thanks a lot!