Bridge LCS logistics software new update V5.6 has now been released! The new update includes big improvements to the user interface and some major updates for better performance.
In our latest update, we've made some important changes to make managing logistics operations easier than ever before.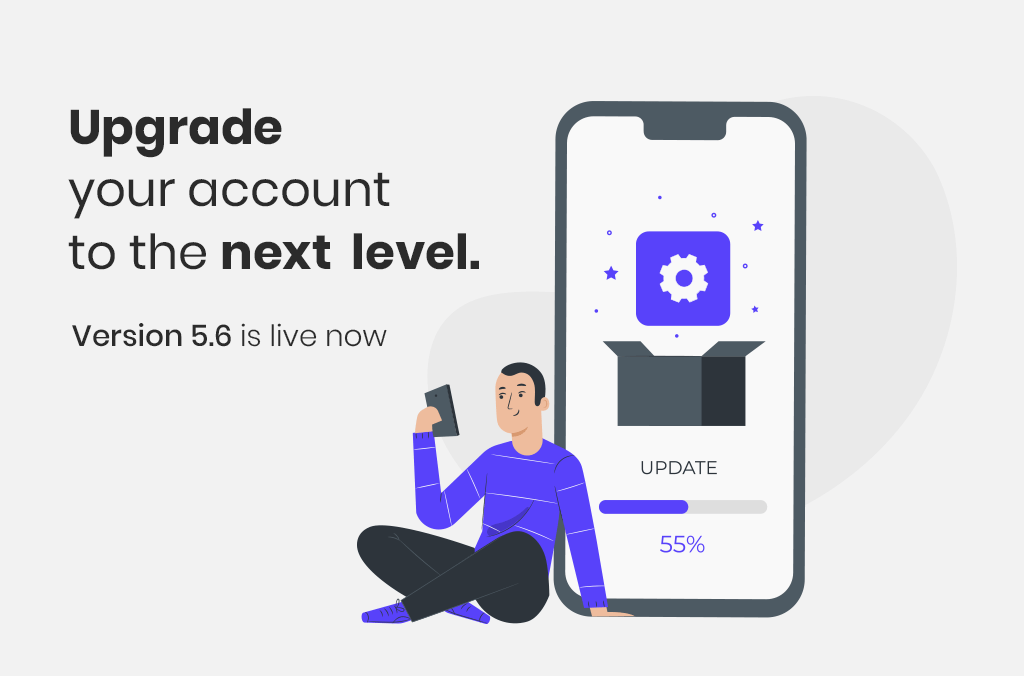 If you're a small business owner or entrepreneur who has tried out logistics management before, then it's likely that one of your biggest frustrations was the fact that the "creating manual invoicing for the same services" setting was forced upon you and there was no way around it. Let us tell you that this is no longer going to be the case with this latest version and also some other latest updates!
What's New
We are back with the latest updates from Bridge LCS logistics software. In this new year, we have rolled out version 5.6 of our All-in-one logistic software with the prime motive to upgrade the performance and boost the user experience. Let's go through the new update!
Import bulk data
The latest version helps logistics companies can now easily import bulk shipping related files by excel sheet in one swift action, rather than having to do so multiple times before making any updates. Which helps you complete all shipping operations easily.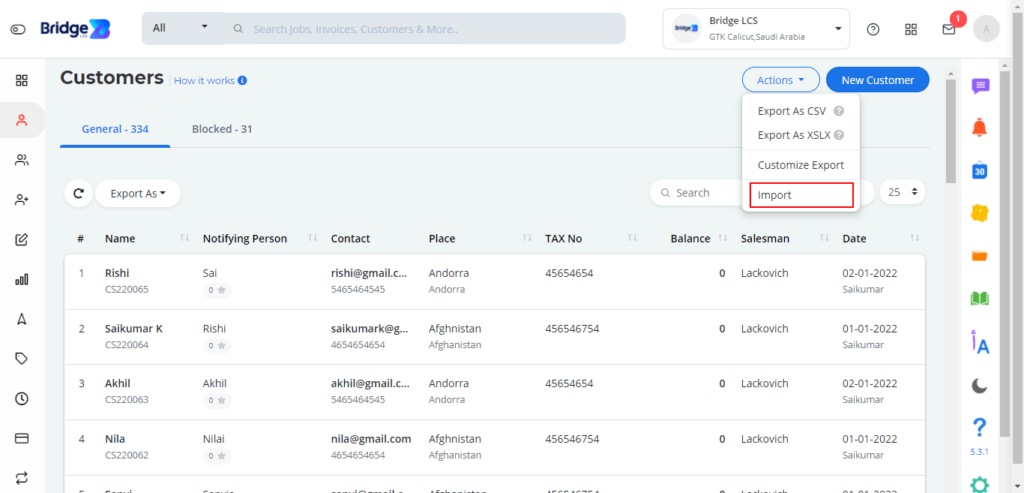 Following modules can import bulk data,
Masters –> Operation Codes
Activity code
Description code
H/s codes
Status code
Unit code
Masters –> Payroll Codes
Department code
Designation code
Shipping Lines
Now you can easily import shipping companies data from your excel sheet or CSV file. The sheet contains the company name and company code which are saved in the format of table data.
This can help you to add multiple shipping companies in a single time and makes it more convenient for you to use any one particular company in the future.
Location in-port
When you select the Nature of business -> Port Terminal in the supplier area, which will be reflected in the location in-port field on jobs.
Also, the new location in-port new report is added below.
Reports -> Operation Reports -> Location in-port report
Recurring invoice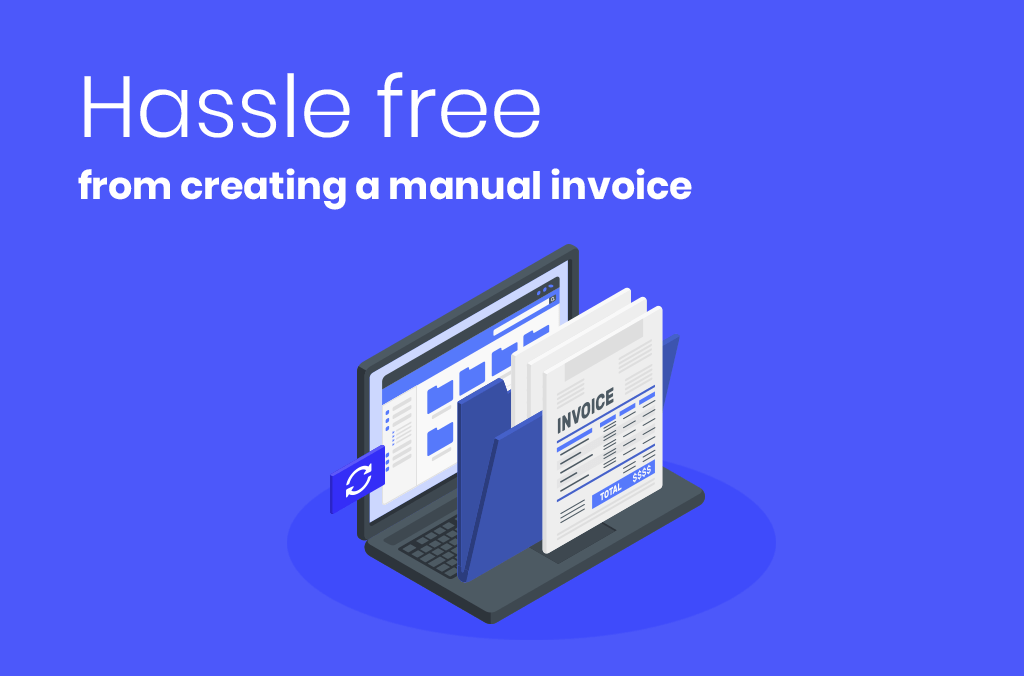 The recurring invoice option is essential for the accounting department of a logistics company. When you require the same services again in the future and you send the same invoice over and over.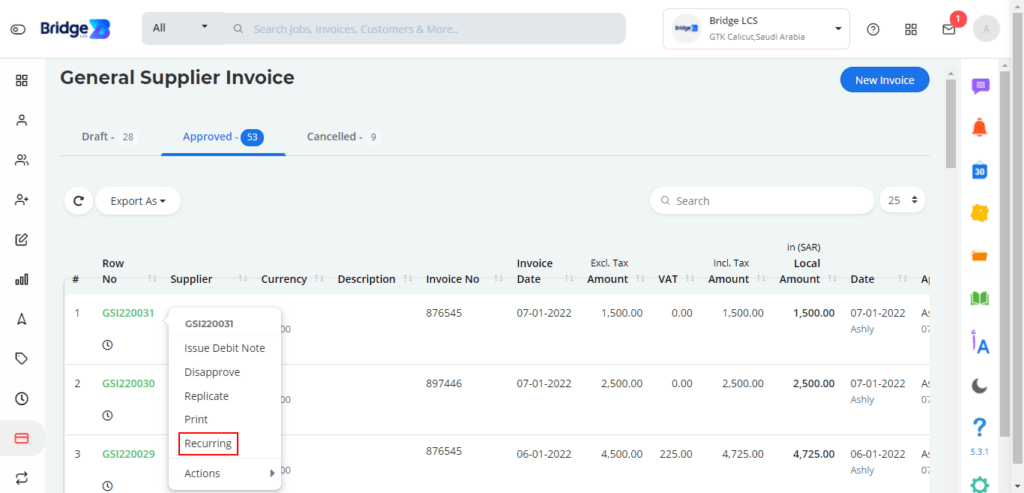 New Recurring Invoice in Bridge LCS is a great option to take the load off of your business. You already have an invoice created, now you can set the date and end month to generate the invoice. The system will automatically generate the invoice on the date you set.
Newly Added
The new nature of business add in both customer and supplier and you can categories the business.
The dashboard has been updated which includes a summary of the daily report. An easy to use chart will let you know the arriving and upcoming import and export data.
We have added you to customize the feild in your invoice and once you're done, you can download them as an interactive PDF file.
Bugs Fixed
You can now easily attach more invoices to an email.
In addition, We fixed some bugs and boosted the overall stability, and also increased the speed.
Thanks for reading!
We hope you enjoyed reading about our logistics software new update. We are excited to continue improving our software and making it easier and easier to run a successful logistics business. If you have any other questions or concerns about Bridge LCS latest update, please mail us at sales@lcsbridge.com or visit our website.

We look forward to hearing your feedback.
Follow us on Website, Twitter, LinkedIn, Instagram, Facebook
Bridge LCS Video tutorial