Data is the key to accurate logistics management. If you are in a logistics business where you deal with a large group of people, you need a tool Freight software to manage this business. That can be Freight management software.
As everyone knows, Logistics is a big market where collecting and analyzing data is quite difficult. What you need to understand is what information will be useful in this software and how will you analyze it. Every company has a wide variety of information collected from various departments. The data collected is invaluable in making decisions related to management. This data can only be effectively used when it is processed and analyzed.
To solve these disputes, every software must have an ideal report management functionality to make the work more accessible and efficient.
What are the merits of reports in Freight software :
Cost Effective:
Having a Report Module in software is an added advantage as it eliminates the need of making reports manually or installing individual software for its purpose.
Enhanced Productivity:
Reports increase productivity by providing precise information all the time with the information gathered at the right time.
Improved Accuracy:
Reports in Bridge LCS are said to have improved accuracy by removing the human errors that are expected to happen. This saves a lot of time and provides precise information in all the conditions.
Information at your fingertips:
Having advanced report management allows you to analyze and access The reports whenever required by presenting the data at your fingertips.
Types of Reports in Bridge Logistics Software :
Standard Reports:
Reports with predefined templates and fields to be displayed are grouped under standard reports. Few Standard reports available in Bridge LCS Logistics Management Software are daily reports, job reports, invoice reports, and much more.
Customized Reports:
Custom reports are advanced reports which can be made according to the need and requirements of the customers or based on the report required.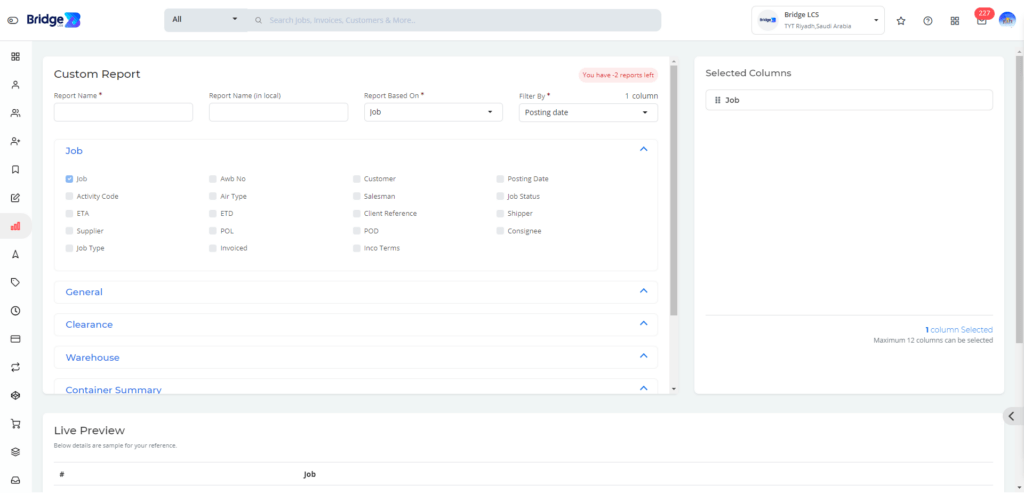 The Types of Standard Reports are as follows,
The reports included in the standard report section are set to have a group of predefined fields and filters that can be adjusted to fetch the required report.
Daily Report :
Daily Report is one of the mandatory reports that every logistics software / Freight Software must have to track their daily tasks efficiently. This provides the daily imports and exports efficiently and promptly.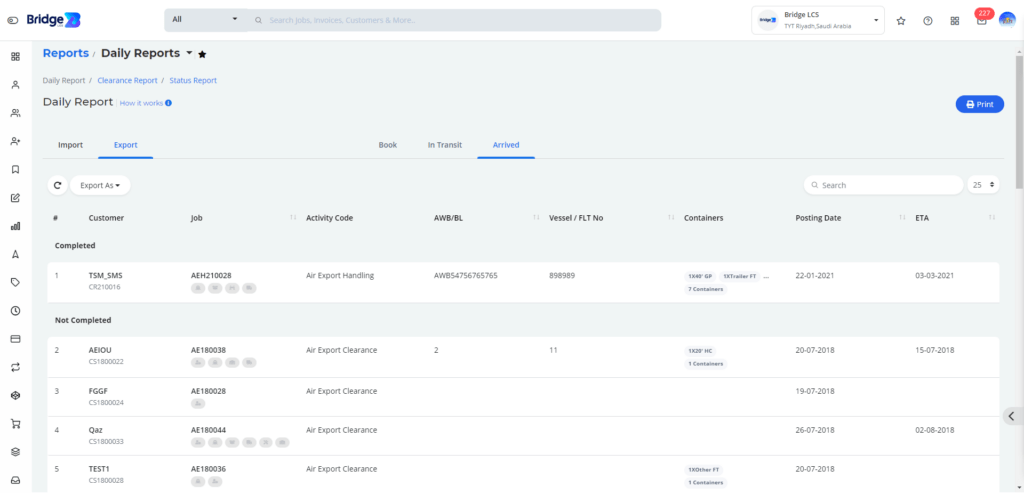 Job Reports :
Job Reports are the shipment reports which need to be prepared with the customer, shipper, consignee, import/export, invoice and bills prepared against the shipment, salesman/operation executives, invoices made against a particular shipment, and other required data. The shipment report can be fetched regardless of the status to present the precise scenario.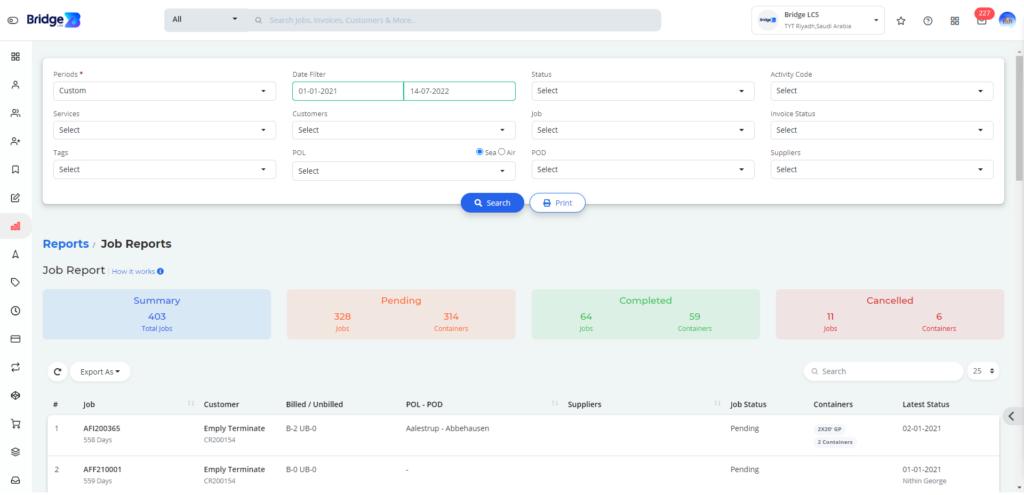 Invoice Reports :
Invoice Reports are one of the primary financial reports that are required to analyze the cost spent, profit/income earned, and the total invoiced amount against every job/shipment.
Invoice reports also support fetching the data based on salesman wise, customer wise, types/modes of shipment carried out, the status of the invoice, and much more.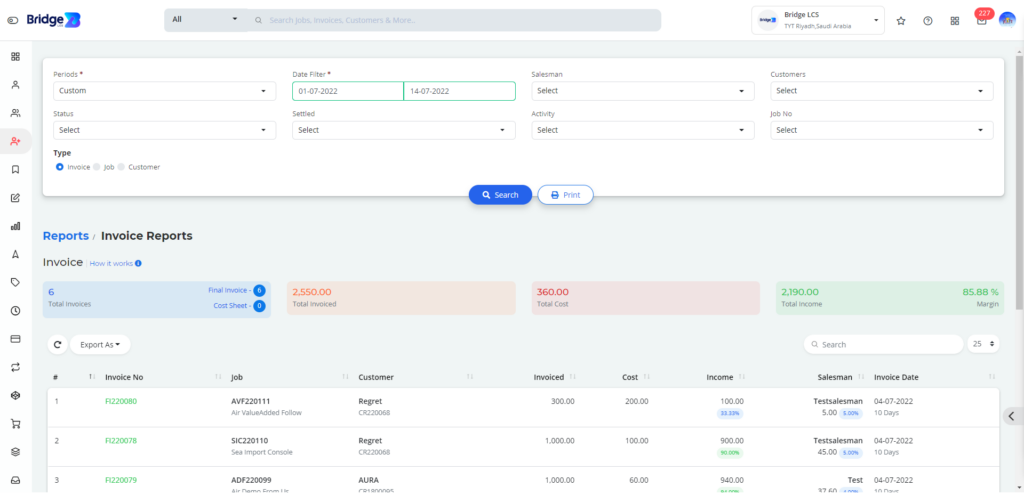 Status Report :
Status Report is one such report which is updated periodically to update the customer regarding the status of the service requested. This includes updating the status starting from approving the service request till the consignment reaches its destination.
This benefits the users with a timely update regarding the shipment apart from the information gathered from the live shipment tracking.
Apart from the reports discussed above, there are other types of reports that Bridge LCS Logistics Management Software provides to its Users. They are Job Income Report, Job Balance Report, Package Report, Container Report, Terminal Reports, and much more.
Conclusion :
Many companies are switching to Freight software/logistics software to help them manage and streamline their daily operations. One thing to have in mind while choosing logistics software is to look out for a complete report management system to analyze and present the data precisely.
Check out "www.lcsbridge.com" for more details regarding the logistics management solution.
Thanks for reading the Blog.
Do comment your ideas and suggestions below !!