The Ministry of Finance in Saudi Arabia has announced the new VAT rate. The effect of the Coronavirus (COVID 19) epidemic and oil price decline, Saudi announced an increase in value-added tax(VAT) from 5% to 15%. On 11th May 2020, the date on which the VAT rate increased to 15% has been announced. It will be effective on 1st July 2020.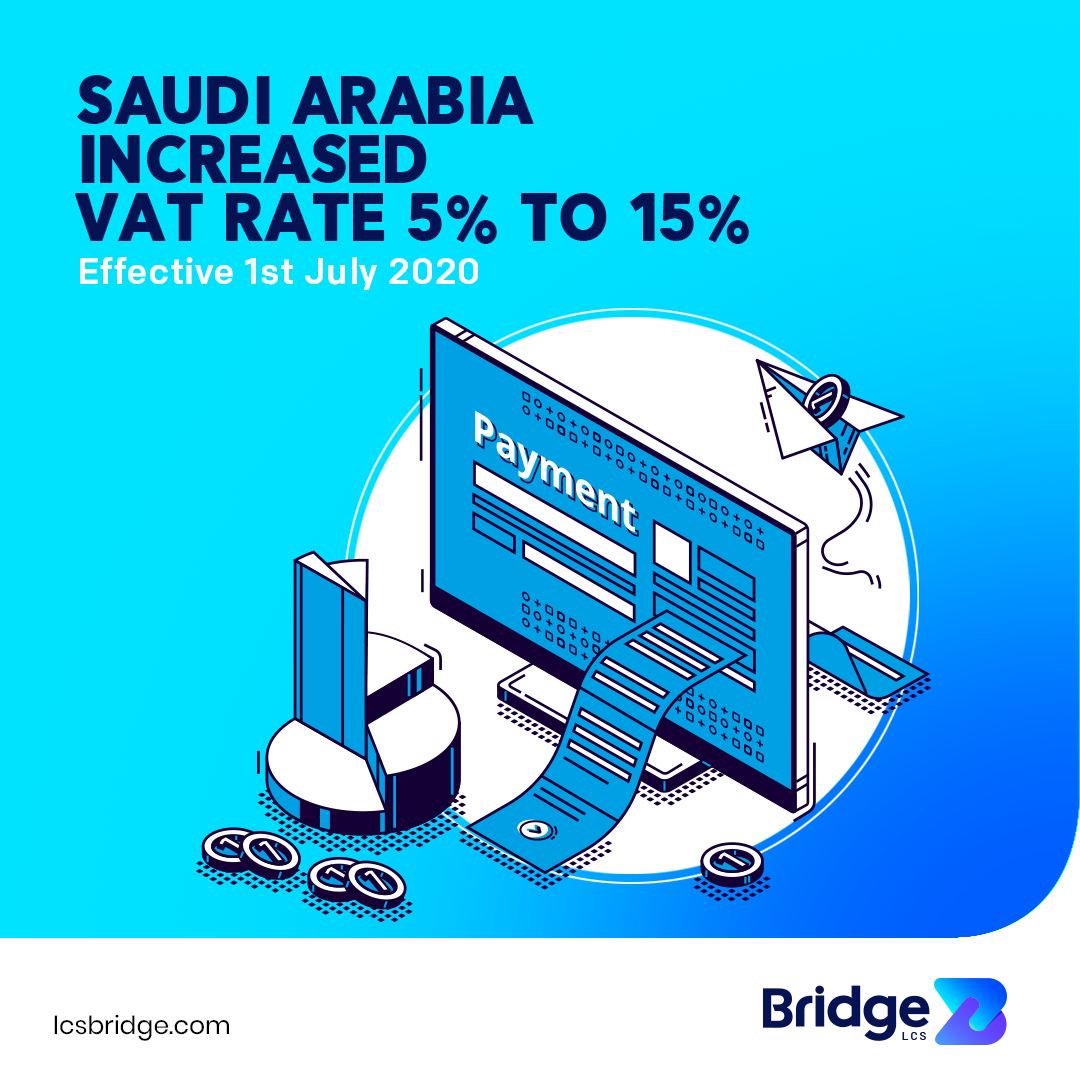 Business on Saudi Arabia VAT
The world is going through its worst-ever economic decline. For people in Saudi, obviously, the cost of living will be increased. Businesses in Saudi Arabia also face big problems and need more time to adjust to the new VAT policy.
In addition, the logistics business will also face huge problems with their software. The software is currently working on a 5% VAT rate, it will reflect on the finance module, etc.
Bridge LCS Logistics Software- Saudi Arabia VAT Policy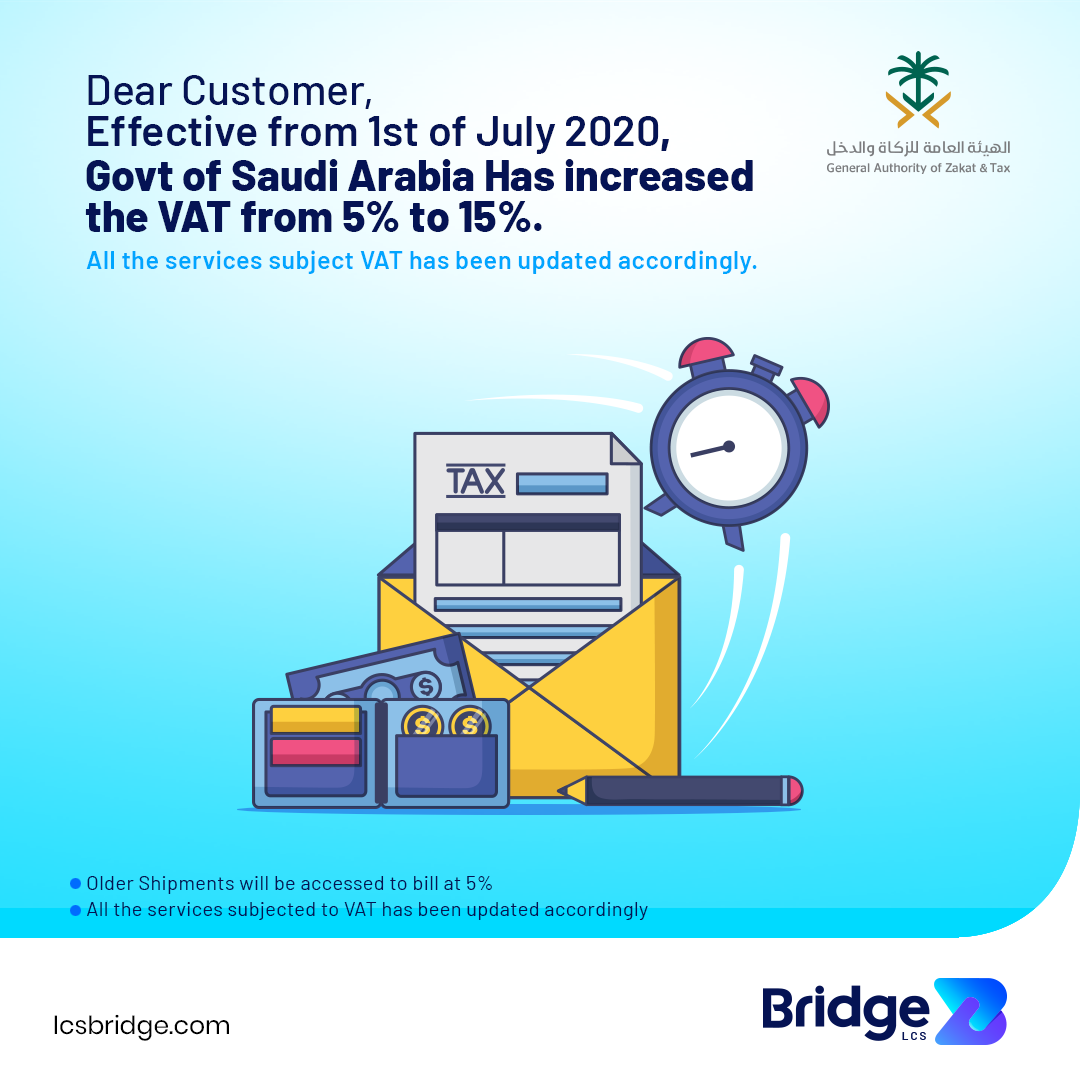 Bridge LCS is an ERP logistics software that can manage the workflow of freight and logistics industries. The software is now working on KSA's new VAT policy.
The software can manage Sales, Marketing, Operation, Transportation, Finance, HR, Payroll, etc. It's an end-to-end solution for all logistics industries. Our Saudi VAT ready ERP software(15%) enables the logistics industries can handle the finance and tax section easily.
In the last week, our logistics software officially launched a new version4.1 with the best features including Backup, Customer Feedback, etc. Increase in Saudi Arabia VAT rate our software update to 4.1.1. KSA VAT ready version allows new features with the new VAT policy.
Bridge LCS software updated your services rate from 5% to 15% automatically in the backend.
Please do Hard Refresh by clicking Ctrl+Shift+R for avoiding cache issues in your browser.
As per the new update, all services must need tax rates. For avoiding issues please go to Settings -> Tax Settings -> Services-> Click Save.
Features
Tax Changes
As per Saudi Arabia, the VAT rate changes from 5% to 15% from July 1st. Bridge LCS updated Tax Settings, Invoices, and Vouchers.
New Tax Settings are fully customizable and can be added more taxes if any TAX is added in the future.
Users still can create an invoice with 5% for till 30 June Invoices. By changing the Tax column from Default 15% to 5%.
As per the new Tax Update, Users can change the Tax Rate for particular invoices by changing the TAX dropdown. Changes will be stored only for particular invoices.
Sales Type & Purchase Type
As per Saudi Arabia, Tax format Bridge LCS worked out the last 30 days to provide a single-click TAX Report.
Now you can set Default Tax, Sales Type & Purchase Type for each service.
With the power of the new update, you can customize Sales Type & Purchase Type while billing time.
Conclusion
The KSA's new VAT policy of 15% will implement on 1st July 2020. Get the best and most updated ERP software for the logistics industry.
For more Saudi Arabia tax details please use the following link: Saudi Arabia VAT Changes to 15%.
Start a 14-days free trial HERE!

Follow us on Twitter, LinkedIn, Instagram, Facebook, Youtube Video