A brief guide to logistics management software – Today's businesses have the challenge of making sure their logistical operations are running smoothly. The right logistics management software is key in order to compete with big companies. This blog will cover a few of the main aspects of logistics and it will provide some information on the logistics software.
What is logistics management software?
Logistics management software(LMS) helps businesses to manage and control their operations related to freight forwarding and logistics. A logistics management software can make logistics operations even more efficient than ever before. By allowing users to manage their customers, job, create and send quotations, and handle finance easier. It's an important asset for logistics businesses to have in order to run smoothly.
The main functionalities of logistics software are:
Managing customers and suppliers
Sales module management
Processing operations
Finance management
What are the advantages of using logistics management software?
Logistics management is much easier to accomplish when you utilize the appropriate software. The logistics software has numerous advantages, some of them are:
Reduce human error
Track shipments
Reduce cost
Automates function
Communicate easily
Data backups
What are the main features of logistics software?
In the increasingly competitive business world, it is essential for a freight and logistics company to have powerful and functional management software that can help in operations, sales, and finances.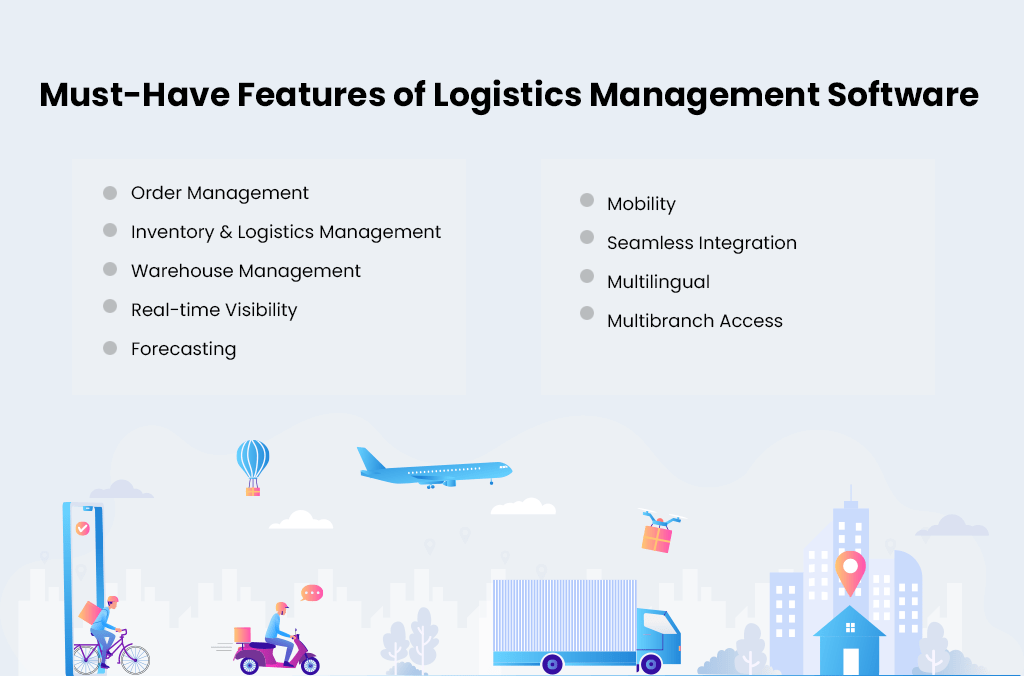 Why is the software needed for the logistics business?
Today's advanced logistics software is a multi-functional interface that allows to manage operations in a single click.
Back-Office operations and quoting
Tracking and notifications
Real-time tracking
High secure data
Secure shipment documents
How do small logistics businesses use software?
The logistics software allows the logistics business to select the pricing model within your needs. If you have a small logistics business with limited shipment annually, companies can select a growth plan to start.
The growth pricing plan is great for small businesses who have their operations limited to just 300/Lifetime contacts, 300 jobs over the course of a year, 1500 vouchers within a year and 500 invoices per year,
One area in which automation can easily make things less complex is logistics. With effective software, you can more easily manage your inventory and people to ensure that everything runs smoothly.
At one point, it was up to the small businesses themselves to operate as an organized machine. But nowadays, logistics businesses that understand how important technology has become have found ways to partner with software providers who are focused on helping deliver solutions that benefit their clients.
No matter what the size of logistics business you run–it is never too early to start thinking about using the most advanced tools possible to help accomplish all your goals and increase efficiency. Here are a few pointers for small businesses to improve their logistics operations using the software.
Enhances the customer experience
Tracking and transportation
Lowers overhead costs
Save time
How to get started with LMS?
Follow these steps to start the logistics software.
To get started, register as a user and fill out the required company details.
Select one of our plans that would be perfect for your company's logistics needs to kickstart the trial period without using a credit card. After the trial period, you should make a subscription to use the system.
In the trial period, you can create only a limited number of users.
You can upgrade the plan whenever you need more features.
Take advantage of the extra add-ons features offered in respective pricing plan.
Finally, you can also get ultimate logistics software solutions without limits as an enterprise user.
Thanks for reading!
If this sounds good to you then, please share your comments below about the guide to logistics management software.
Cheers!

Follow us on Twitter, LinkedIn, Instagram, Facebook
Bridge LCS Video Tutorial